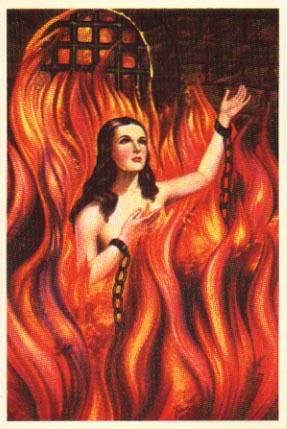 Tonight at
Top Hat Tattoo
I am getting adorned with the image on this postcard that I've been carrying around since 2002. I received it from my dearest sister-friend along with my birthday gift that year and I was instantly captivated by the image. The classic early 60's style made it seem kitschy, and the obvious religious theme conjured images of the always suffering saints in my copy of
Fifteen Saints for Girls.
On the flipside of the postcard, the only identifier was a title that said "The Trials of Saint Bernadetté."
So, up on the wall it went. Until last year when I went to a DIY craft fair and ran into the image all over the place. None of the artists had too much information as to the origin of the image, save for the title "Anima Sola." And so she is, the Anima Sola, the Lonely Soul. For me, this image conjures thoughts on the religious persecution of women as the "arbiters of sin" due to their sexual nature. It is said that the Anima Sola traded eternal salvation for temporal love -- and thus burns in the purgatorial flames. Yet she is not consumed. She gazes heavenward, chains broken. She is at last free.
So what does St. Bernadetté have to do with this? Well, it seems that Leonard Cohen penned
Song to Bernadette
for Jennifer Warnes Famous Blue Raincoat album (1986), and I've been told by friends that the Anima Sola image adorned an early Cohen album cover, though the only reference I could find was on
Tower of Song,
a Cohen tribute album. But clearly
St. Bernadetté
suffered greatly in her lifetime, and I think the image references her suffering and constant physical pain.
So, when I walked into Top Hat Tattoo for my consultation yesterday and laid down my image, the store owner, Priscilla, remarked, "Whoa. You want this tomorrow? Andrew (the tattoo artist), do you know what tomorrow is?" She then laid down the EXACT SAME IMAGE claiming that his other appointment for the day was an older mexican man who wanted the Anima Sola tattoo from elbow to shoulder -- a seven hour masterpiece. Neither the artist or the owner of the shop had ever seen the image before, let alone been requested to duplicate it twice in one day. Very odd. So, of course, I took it as a sign that it was meant to be. Now, I am hoping I can get a couple of friends to join me there, because I am really nervous. This will be, by far, the largest and most visible tattoo that I have, and it will take about three hours to complete. I plan on getting it on my upper right arm, and it will be about seven inches long. I barely slept last night, worrying about my decission. Just what kind of woman gets an obsure holy card tattoo on her arm anyway? What, if anything, does this say about my character?
All questions that will soon be answered, somtime after 7:30 p.m. tongight.