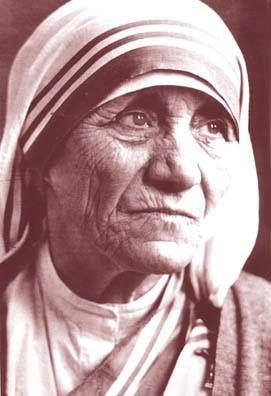 In case you haven't heard yet,
Mother Theresa's letters describing her intense torment and spiritual struggle
have been compiled (against her dying wishes) into a new book,
Mother Teresa: Come Be My Light.
While some
atheists
are crawling out of the woodwork to use these letters as "proof" that Mother Theresa was herself an atheist, people of faith are holding her up as an example of the struggle that each of us goes through with our faith, and the experience of the
"dark night of the soul,"
that has been described by the mystic, St. John of the Cross.
I can't wait to read the book. And I just shrug off the ideologues who want to use Mother Theresa to prove whatever point they are trying to make. Something about knowing that Mother Theresa struggled such extreme spiritual darkness is so comforting to me. And if there is a true force of evil in the world, I can see it concentrating a lot of energy on making that woman suffer -- because of all the light that she brought into the world. I have no doubt that this book containing her letters will one day hold the same regard in the church as the writings of St. Agustine.
This kind of spiritual agony reminds us that none of us are ever free of doubt, and that faith always involves an ascent of the will:
I call, I cling, I want ... and there is no One to answer ... no One on Whom I can cling ... no, No One. Alone ... Where is my Faith ... even deep down right in there is nothing, but emptiness & darkness ... My God ... how painful is this unknown pain ... I have no Faith ... I dare not utter the words & thoughts that crowd in my heart ... & make me suffer untold agony.

So many unanswered questions live within me afraid to uncover them ... because of the blasphemy ... If there be God ... please forgive me ... When I try to raise my thoughts to Heaven there is such convicting emptiness that those very thoughts return like sharp knives & hurt my very soul. I am told God loves me ... and yet the reality of darkness & coldness & emptiness is so great that nothing touches my soul.
Even Jesus himself cried out on the cross, "My god, why hast thou forsaken me?"
Understanding the nature of suffering is the ultimate question of our very existence, the hingepin of all faith. And doubt is essential to our spiritual growth. I also hope that these letters hope to dispell the belief that Christians (generally speaking) follow blindly, never questioning. Anyone who takes faith seriously has confronted the darkness. And to know that the darkness surrounded someone as holy and blessed as Mother Theresa should serve to teach us all something about tenacity and stregnth. And when they name her a saint, she will forever be the Patroness of skeptics.